Judo Therapist
A Bone and Muscle Injury Specialist: (A Japanese Traditional Therapist)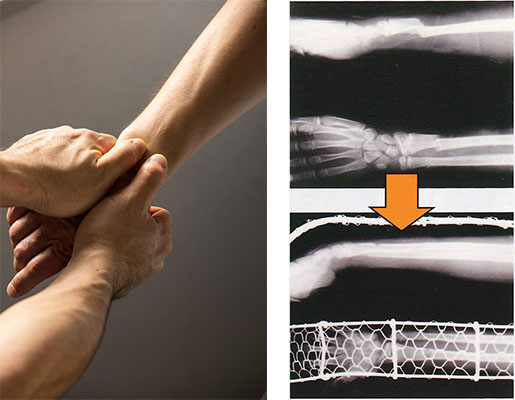 A judo therapist treats bone, muscle and joint injuries, such as fractures, dislocations, bruises, sprains and muscle strains, without the performance of surgery. A judo therapist is also known as a judo reduction therapist. Reduction is the process of restoring a previously fractured bone or dislocated joint to its correct alignment. A properly-aligned bone is then stabilized with medical tape or a metal splint in order to prevent it from slipping. This series of procedures is known as "judo reduction therapy" (A doctor' s consent is necessary for non-emergency treatment of fractures and dislocations).
和訳:ケガを治す専門職(日本の伝統的治療)
柔道整復師は、骨折、脱臼、打撲、捻挫、肉ばなれ、などのケガに対し、手術をしない方法で治す専門職です。骨折で曲がった骨や、脱臼で外れた関節を手技で元の状態に整えることを「整復」といいます。そして「整復」した骨がずれないようにするために金属副子やテーピングなど、いろいろなもので固定します。この治療を総称して「柔道整復術」といいます。(骨折と脱臼に限り、初回の応急処置を除いて医師の同意が必要です)
Opening and Managing a Clinic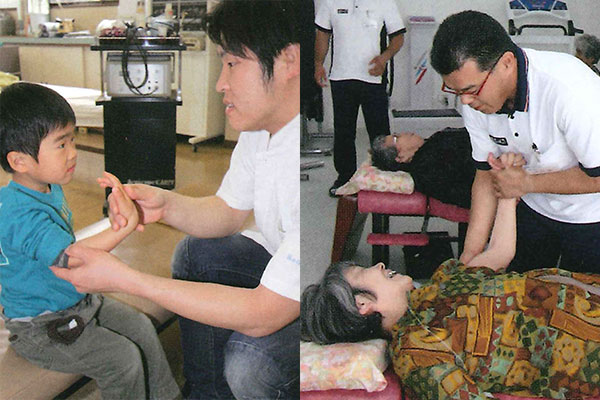 After obtaining a license, judo therapists train at medical institutions such as orthopedic departments, bonesetters, and osteopathic clinics, in order to learn a range of skills and techniques. Most of them then open their own clinic. Judo therapists are granted the qualification of "functional training instructors" by the long-term care insurance system (which was launched in 2000). Thus, recently, as long-term care support specialists (care managers) or functional trainers, more judo therapists are engaging in elder care services. In addition, they play a role in other fields; disciplining children through instructing judo, and attending sport competitions as a first-aid provider or trainer.
和訳:接骨院・整骨院を開院
柔道整復師は免許取得後、接骨院や整骨院、整形外科を中心とした医療機関で研修を積み、幅広い知識と技術を身に付けます。その多くは「接骨院」や「整骨院」を開院しています。2000年の介護保険制度のスタートに伴い、福祉分野で活動できる機能訓練指導員の資格も与えられています。介護支援専門員(ケアマネジャー)や機能訓練指導員として高齢者をサポートする柔道整復師も増えてきました。柔道の指導を通して、子供たちの心身を鍛錬し、青少年の健全育成に努めており、各種スポーツ大会の救護やトレーナーとして参加するなど、多くの分野で活動しています。
National Licensing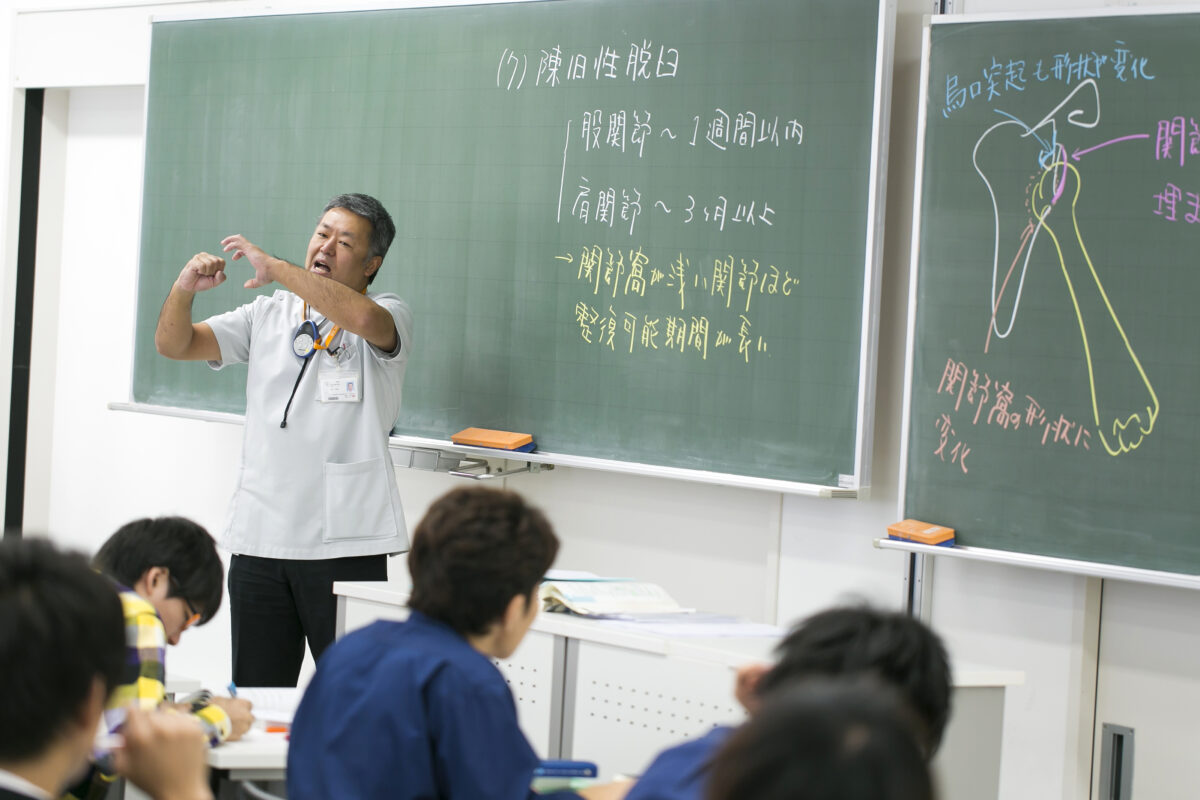 Though officially known as judo therapists, they are more widely known as coaptators, bonesetters or osteopaths,. The Ministry of Health, Labour, and Welfare grants judo therapist licenses. To be eligible to sit the licensing examination, you must have studied for more than 3 years at a school listed in the Ministry of Education, Culture, Sports, Science and Technology or the Ministry of Health, Labour, and Welfare, or have studied for more than 4 years at an university listed in the Ministry of Education, Culture, Sports, Science and Technology. You must also have completed 11 subjects, among which includes judo therapy theory, anatomy, physiology, kinesiology and orthopedics.
和訳:国家資格
昔から「ほねつぎ」「接骨師」「整骨師」として広く知られていますが、正式には柔道整復師といい、国家資格です。現在は高等学校卒業後、文部科学大臣の指定した学校か厚生労働大臣の指定した柔道整復師養成施設で3年以上、または文部科学省の認可した4年制大学で、柔道整復理論、解剖学、生理学、運動学、整形外科学などをはじめ11科目を学び、国家試験に合格すると厚生労働大臣から免許が交付されます。
Why are they known as "Judo" Therapists?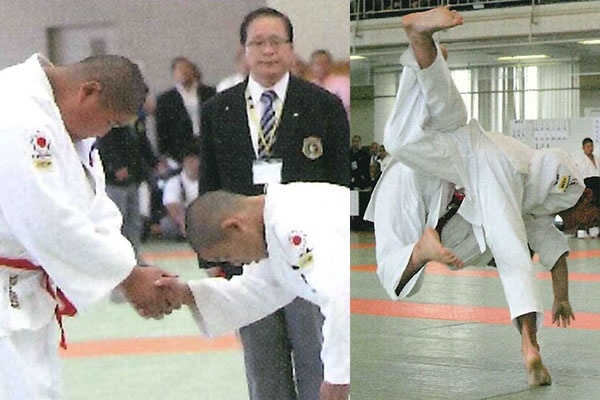 Sekkotsu (coaptation) and Seikotsu (bonesetting) are mentioned in Yourou Ritsuryo (Yoro Code, 718AD) and in an old document of 8th century (Heian period). The roots of judo therapy date back to the 15th century (Warring States period).
At that time, Chen Yuan-Yen, from China, taught Chinese martial arts and Seikotsu-jutsu (a bonesetting technique) to Japanese samurais. A part of the those martial arts became known as jujutsu, which then evolved into judo. Judo is now known throughout the world as a Japanese traditional sport which strengthens the mind and body. Its fundamental spirit is embodied by the phrase, "Rei ni hajimari, rei ni owaru" (Beginning and ending with a bow of respect).

Along with the evolution of judo, Seikotsu-jutsu was also popularized, and evolved into coaptation, bonesetting and osteopathy. Such clinics were often built next to judo-jo (judo schools or clubs). Through knowledge of these historical details, the Japanese government was able to legally define a judo therapist under the Judo Therapists Law in 1920.
和訳:資格名に柔道がつく理由
「接骨」や「整骨」の名称は、養老律令(718年)や8世紀(平安時代)の古書にも記載されているとの報告があります。柔道整復師のルーツは、一説によれば15世紀(戦国時代)にさかのぼります。
中国から来日した陳元費(ちんげんぴん)氏が、日本の武士たちに中国拳法とケガに対する手当ての「正骨術」を伝えました。
この拳法の一部が武術の一つである「柔術」として広められ、現在の「柔道」に発展。"礼に始まり礼に終わる" のごとく礼節を重んじ、心身を鍛えることができる日本の伝統スポーツとして世界に普及されています。
一方、「正骨術」も車の両輪のごとく発展し、ケガをした人の治療法として「ほねつぎ」「接骨」「整骨」として伝承され、柔道場を併設しているところが多くありました。こうした歴史的経緯から、国は1920年に「柔道整復術」として公認し、現在に至っています。
Judo Reduction Therapy is Recognized by the WHO.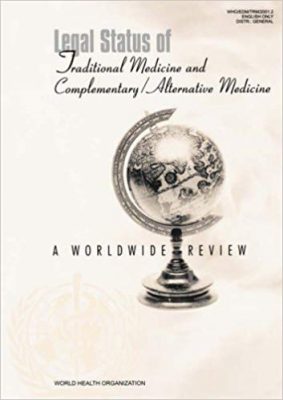 As one of Japan's traditional medical practices, judo reduction therapy was introduced in the 2001 report, "The Legal Status of Traditional Medicine and Complementary/Alternative Medicine: A Worldwide Review" published by the WHO, in which "judo reduction therapists" were referred to as "judo therapists". Judo therapy was also recognized in the WHO Congress on Traditional Medicine (2002). In order to disseminate the benefits of Judo Therapy to countries in which medical infrastructure is lacking, the Japan Judo Therapist Association dispatches judo therapists around the world.
和訳:WHOに「柔道セラピー」として認知
柔道整復師の活動は国内に留まらず、2001年のWHO(世界保健機関)発行の「伝統医療と相補・代替医療に関する報告」に日本の伝統医療として紹介されました。その中で柔道整復師は「柔道セラピスト」(Judo therapist)と表現されています。そして2002年のWHO伝統医学総会で柔道整復術は「柔道セラピー」(Judo therapy)として認知されました。
公益社団法人日本柔道整復師会は、医療環境に恵まれない世界中の人々のために、講師を派遣して柔道整復術の普及活動をしています。
Judo Therapy at the Tokyo 2020 Olympics & Paralympics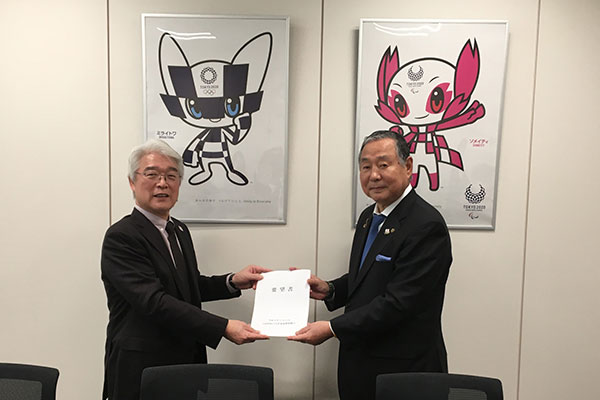 The Japan Judo Therapist Association is endeavouring to make the benefits of judo therapy available to international athletes and attendees at the Tokyo 2020 Olympics & Paralympics Games.
和訳:東京 2020 オリンピック・パラリンピックに向けて
日本柔道整復師会は「東京 2020 オリンピック・パラリンピック」で世界の選手や関係者に柔道整復術を活用できるよう努めています。
Corporation of public interests
Japan Judo Therapist Association